Welcome to the website of the Brisbane Catholic Historical Society.
The Brisbane Catholic Historical Society (BCHS) exists under the Patronage of the Most Rev. Mark Coleridge, Archbishop of Brisbane.
We aim to promote interest in, to research, and to record items of interest and significance in the history of the Catholic Church in Queensland. The Archbishop has generously given the Society access to the Hanly Room within the Francis Rush Centre as a venue for our meetings. The Francis Rush Centre is part of the St. Stephen's Cathedral campus in Brisbane.
Activities of the Society include speakers on a variety of subjects every two months, an annual bus trip to places of historical significance, and an annual memorial Mass for deceased Members.
We encourage you to find out more about us, and choose to join us by becoming a member. You are also welcome to review our news and events, including our journal, Proceedings of the Brisbane Catholic Historical Society along with the Table of Contents of the past volumes, and other articles of interest.
The Society meets in the Hanly Room of the Francis Rush Centre beside the Cathedral at 5.00pm on the second Tuesday of February (AGM) and at 5.30pm on the first Tuesday of April, June, August, and December.
If you have any questions or would like to find out more about the Brisbane Catholic Historical Society, please feel free to contact us.
DECEMBER MEETING
There is a change to the programme for our next meeting scheduled for 1 December.
Instead of our usual guest speaker, we have invited Dr Lee-Anne Perry AM, Executive Director of the Queensland Catholic Commission, to launch Dr Maree Ganley's book The Long Road to School: Sea Pictures from a Convent Boarding School. Primarily a history of St Ursula's College Yeppoon, the book also has stories of the difficulties faced by girls from outback towns and properties to get to St Ursula's for their education.
The book will be available for purchase at the meeting (cash, cheque or card payment) – see details below.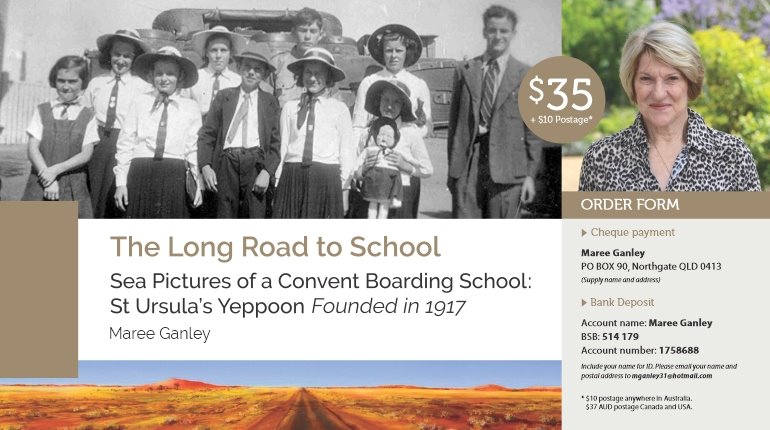 Unless prevented by Covid-19 restrictions, the launch will be held in the Hanly Room at St Stephens Cathedral at the usual time of 5.30pm. In accord with current Covid regulations, attendees are required to register their details prior to the meeting, so we know in advance how many we are expecting on the night. Please advise the Secretary by emailing bchsmeeting@gmail.com or by phoning 0409 075 739 if you wish to attend.